Scholar Athletes Leadership Academy is where scholars in grades 6-12 and beyond post-grad, can embrace their pursuit of athletic accomplishments and establish themselves as leaders.
School Sports In Bridgewater and Pitman, New Jersey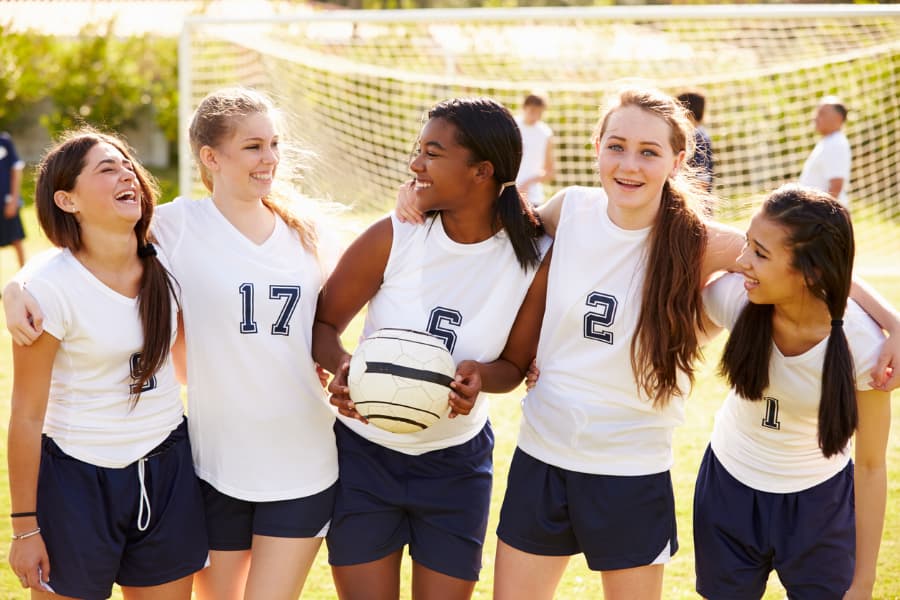 Too often schools place athletes in circumstances where the scholar athlete feels they must choose between sports and academics. Our educational philosophy at SALA honors the whole person. This means that our scholar athletes are encouraged in their sports programs while experiencing a learning atmosphere that promotes academic excellence and preparation for life after school. We promote participation in club teams, and we don't limit the amount of athletic involvement by our students. SALA also provides continued support for professional pathways in athletics after graduation.
Soccer At SALA
Soccer is growing in popularity, and our programs are attracting more scholar athletes each year. SALA's curriculum provides soccer-specific sports training and programs for overall athletic performance several times a day. Students can work with experienced, professional educators and faculty as they develop a school schedule that incorporates both academics and sports. The soccer program at SALA is held at both campus locations, in Bridgewater and Pitman, NJ. We also encourage scholar athletes to play soccer in club teams, to build contacts, skills, and confidence.
Experience International Soccer
Our partnership with C.D. Numancia De Soria provides SALA soccer players with the opportunity to train and play in Soria, Spain, with the historic Segunda Division. This one-month pro club residency takes place during the academic year. In addition, the Numancia technical staff will visit SALA campuses to support player development and to provide player identification opportunities.

Learn about the soccer programs at SALA.
Basketball At SALA
The fast-action and excitement of basketball attract both players and fans. Invented in the U.S., the sport has been popularized throughout the world. The middle school and high school basketball programs at SALA take place on our campus in Pitman, NJ. Our scholar athletes attend two athletic practices per day under the direction of our experienced, professional coaches. In this way, they have time during the school day to develop their basketball sports skills, as well as attend both in-person, online, and individualized classes. SALA students are prepared for both future sports endeavors and academic achievement in college. This unique approach helps students apply for scholarships and awards as they pass from high school sports to college athletics.
Learn about the basketball programs at SALA.
E-Games At SALA
Video or e-game competitions are growing in popularity every day. Many scholar athletes are discovering the excitement of competition, and the need to develop excellent hand-eye coordination, on-the-go strategic problem solving, and lightning-fast reactions. Through our unique programs that emphasize sports and fitness as much as academics, SALA's curriculum helps prepare students for e-game competitions, e-game development, and scholarship opportunities.
Learn about e-game competitions at SALA.
International Sports Experiences At SALA
In addition to our partnership with a pro club in Spain for soccer players, many scholar athletes at SALA travel for international experience in their sport. We encourage students to pursue pro trials and coaching experiences abroad. Taking advantage of networks developed by our Executive Leadership and coaches, SALA scholar athletes can advance in their sports, as well as gain cultural experiences that often enrich their applications for scholarships, colleges, and employment.
Learn about international experiences at SALA.
Don't See Your Sport At SALA?
If you don't see your sport mentioned in the SALA curriculum, that doesn't mean it isn't the best choice for you or your child. Twice-daily athletic practices build strength and athletic skill, a flexible curriculum encourages participation in club sports and private training. If the current school experience is not the best for your scholar athlete, discover how SALA can renew the spark for learning, as well as help young athletes find their way to excellence and leadership.
Curriculum Accommodates Sports And Athletics At SALA
Balancing schoolwork and athletic pursuits can be a challenge. Scholar athletes at SALA don't have to choose – we know both are important and make room for them in the curriculum. Students receive daily coaching, as well as athletic practices for fitness and flexibility. Our faculty works hard to provide top-notch educational opportunities with a combination of class experiences, online learning, and individualized tutoring. This allows students to make a schedule that fits well with their other athletic pursuits and club sports schedules. Contact Scholar Athletes Leadership Academy in Bridgewater and Pitman, NJ, today.