About Scholar Athletes Leadership Academy (SALA)
Scholar Athletes Leadership Academy (SALA) is a nationally accredited, coeducational, state-registered private school district. Across our campuses in Bridgewater, Whippany, and Pitman, NJ, we prepare young people for college and careers through a unique combination of academics, athletics, and leadership development. SALA serves students from fifth through twelfth grade and offers rolling admissions throughout the school year.
SALA's Educational Philosophy
The leading and learning culture at SALA fosters the power of student agency and growth mindset. When young people retain ownership over their education, they learn to problem solve, think outside the box, and challenge themselves in new and innovative ways.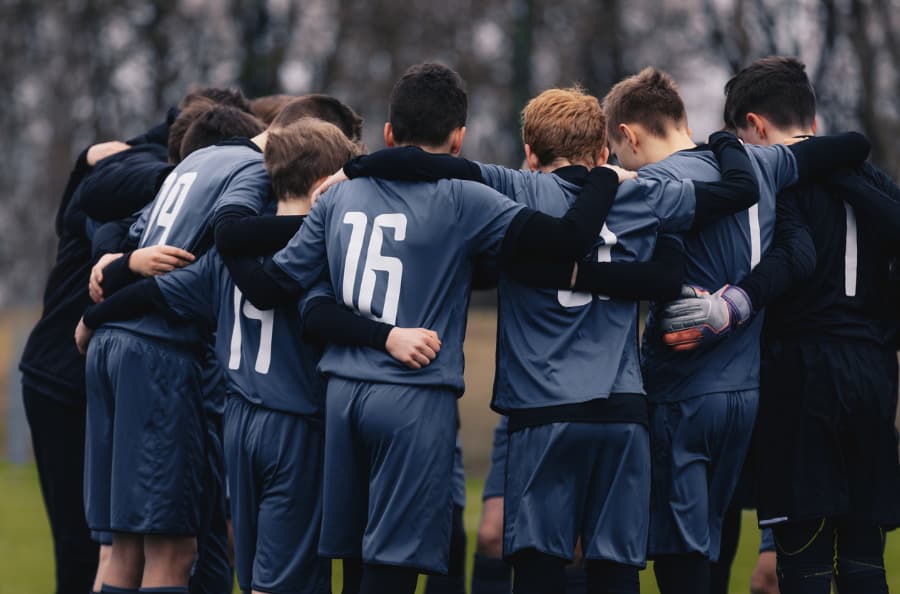 Scholar Athletes Leadership Academy uniquely propels young people towards their own interests and aspirations through a synchronistic blend of academics and athletics. A life-long love of learning will be fostered and fortified by placing equal value on the enjoyment of productive struggle and overall academic attainment.
Scholar Athletes Leadership Academy lifts young people beyond their vision of capability to become self-directed learners; developing a growth mindset, becoming young leaders, and applying unique global perspective and experience.
At SALA, we are dedicated to creating an environment where students can succeed both in the classroom, on the field, and beyond.
An Innovative Academic Model
SALA's academic model blends traditional classroom instruction with online learning through the American High School (AHS) fully accredited online educational platform. Scholars enjoy a curriculum that is responsive and tailored to their learning style and needs. In addition to a rigorous core academic curriculum, our scholar athletes may choose eight-week elective courses on topics from public speaking to robotics. Our small campuses and our 8:1 student-to-faculty ratio allow for increased equity and personalized learning. Each scholar athlete receives one-on-one academic support and mentorship.
A Commitment to Athletics
At SALA, we blend educational growth with athletic development. All scholar athletes benefit from daily professional training in their chosen sport. SALA provides a supportive environment with faculty that is committed to helping scholars pursue college sports and professional athletic careers. To help create pathways into the world of professional sports, we offer immersion study abroad programs through our international partnerships.
College Readiness and Postgraduate Studies
SALA is committed to preparing students for their next steps, whether that means attending college, enrolling in career training, or taking a gap year. We are proud to boast a 100% graduation rate and 100% college acceptance rate. Through AHS, our academic curriculum helps our scholar athletes meet the requirements for National Collegiate Athletic Association (NCAA) eligibility.
For scholar athletes who are interested in taking a gap year before entering college or their career, SALA offers a Post-Graduate Studies Program in Sports & Leadership. Participants can continue their academic and personal development in a supportive and challenging environment. This program includes SAT/ACT prep, continued physical training, and application and recruitment support for scholar athletes pursuing collegiate-level athletics.
A Message from Our Founder
SALA was founded in 2016 by Sam Gough, Mr. Gough holds an M.A. in Education from Loughborough University and an M.A. in Educational Administration & Leadership from Kean University. He is passionate about motivating students to become resilient, self-directed learners.
Fixing factories is profoundly difficult. Designing from scratch is life-affirming. We have taken what global society already collectively knows about fortifying whole, healthy young people and put it together in a model of school that celebrates a universal design for learning….rich with flexibility and agency.
You won't find outdated pacing guides or curriculum maps on our campus. We have designed a school to truly prepare our scholar athletes for the life they want to live – to become their best selves, and to enjoy a fulfilled professional life. Success is necessarily and uniquely individual; in much the same way as a young person's educational attainment should never be standardized and/or compared to another's. After all, growth and development is non-linear. Our growth-minded graduates are young learners and leaders forged with resiliency, moral fiber and global perspective.
Families choose specialist and private schools not just because of overcrowding, safety or boredom. Alternative "micro" schooling offers increased access, agency and authenticity. If young people know what they want to do, they had better get ready for it. Preparation for life starts with motivation and engagement, and leads to self-direction, self-regulation, self-discovery, self-discipline and ultimately, self-sufficiency. Learning how to learn, developing/prioritizing skills over content, and establishing exciting post-18 pathways are the covetable consequence of meeting a young person where they (not others) are at. This is the foundation of all meaningful relationships.
​Commensurate to our operational intent and overarching mission, SALA provides a differentiated school experience that encourages professional educators to operate the elevator at all times, but not necessarily push the button for each floor.
​Welcome to SALA!

Learn More About Our Educational Institution
If individualized attention and a flexible school schedule are what your child needs, consider Scholar Athletes Leadership Academy. Our approach to academic and athletic development creates a supportive environment for scholar athletes. For more information about our private school or to schedule a tour of one of our campuses in Bridgewater, Whippany, or Pitman, NJ, contact us today.